Report on Race 12 – LC Tyres James Eadie Race – "The Decider" for ISORA Series
Read a report in AFLOAT here
The Results are Published here
The last race of the 2016 Averycrest ISORA Offshore Series took place yesterday, 10th September. The race was the "LC Tyres James Eadie Race" from Pwllheli to Dun Laoghaire – 75 miles. This is a long standing race in the ISORA calendar. It was originally run from Abersoch to Dun Laoghaire.
What made this race special was that four boats, twice ISORA Champion Liam Shanahan's "Ruth", Peter Dunlop's "Mojito", Chris Power-Smith's "Aurelia" and Stephen Tudor's "Sgrech" all stood to win the overall championship with a good performance in the race.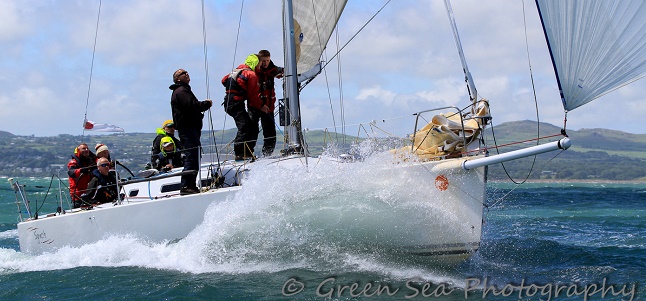 Even in the past when starter numbers were low, this race attracted the best turnout. A week before the race 26 of the 34 entrants confirmed that they intended racing. However, as happened for the previous two years, bad weather for the deliveries wrecked the intended start numbers.
Despite the bad weather forecast for Irish boats delivering to Pwllheli before the race and UK boats returning to UK ports after the race, 14 boats came to the start line at the bridge at the old Pwllheli Sailing Club premises. Unfortunately "Ruth" had to pull out of the race at the last minute.
Strangely, with very bad weather forecast for the day before the race and the day after the race, the forecast for the start of the race was for little wind. There was to be fluky conditions in the morning with a south westerly winds filling in around mid-afternoon and building.