ISORA Team Racing
The Victoria Cup - Irish Sea Cup
Background
The Victoria Cup was presented to ISORA by the The Royal Mersey Yacht Club for the best Club team in the ISORA series.
At a later date the Irish Sea Cup was awarded in place of the Victoria Cup.
With the growing interest in ISORA it was agreed in the 2013 AGM that the team racing would be reintroduced with the aim of generating a team approach to the ISORA series and to encourage more competitors to offshore racing.
There have been various rules for the team racing in the past and the following is a modern variant to achive the objectives set out above.
The Rules
Each Club must have three competitors to qualify
The scores are taken from the Overall Results Table applying the Clubs best three results overall. The club with the highest points wins!
Although the Club Race Points Table will be updated after each race it is the total at the end of the series that counts for the Trophy.
Competitors from clubs who do not have three boats participating in the ISORA race series will qualify for the 'Barbarians Team'.
The Barbarian team will be:
drawn from the overall results table
from clubs who do not qualify as a club team
the best results in the overall table
The results for 2018 are available here and summarised in the table below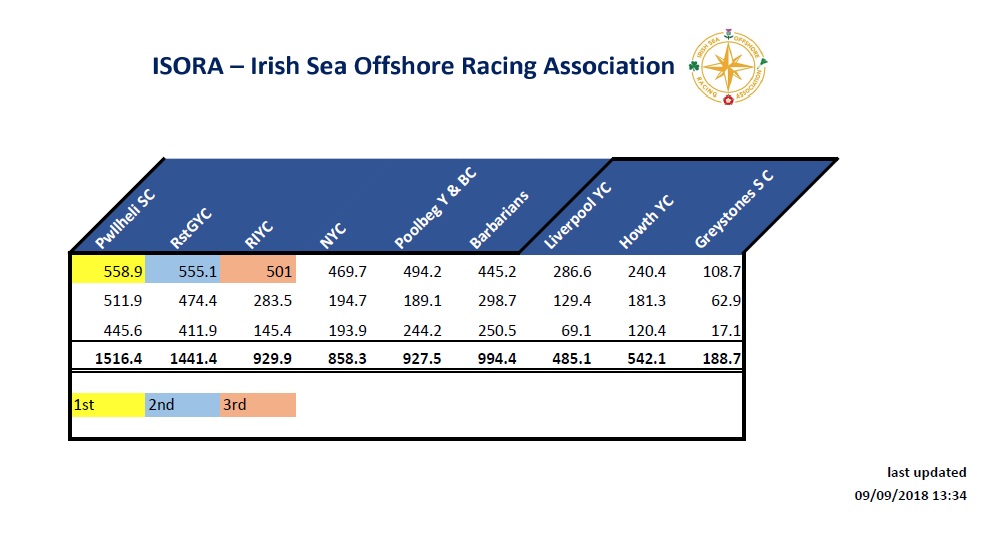 ---