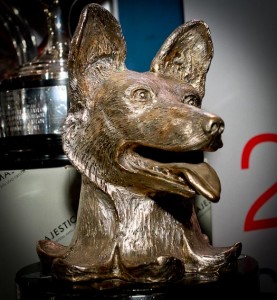 The Wolf's Head Trophy was presented by Mr David Pearson in 1977 when he was Commodore of the Royal Dee Yacht Club initially for a one-off race to commemorate the Queens Silver Jubilee.
The Royal Thames Yacht Club came up with the idea that UK yacht clubs would organise racing to celebrate the Queen's Silver Jubilee. The race in the Irish Sea was held off Holyhead and it is believed that the race followed a format set down by RTYC. It involved going round a number of buoys over a period of time and logging times, etc. It was open to almost any type of cruiser or racer, with or without a proper IOR handicap. A copy of the rules has not survived but participants recall the race being of a strange format and it was not repeated.
David Pearson's decided that the Wolf's Head Trophy, after the initial Jubilee Race, would be used for the top dog in the Irish Sea and it has been presented every year thereafter by the Irish Sea Offshore Association (ISORA).
---
The Wolf's Head Trophy
Presented to the Royal Dee Yacht Club by
D.A. Pearson- Commodore
to commemorate the Silver Jubilee of Her Majesty Queen Elizabeth II 1952 - 1977
---
A list of winners from 1977 - 2022 is listed below:
2023 - Mojito - Peter Dunlop & Vicky Cox
2022 - Not awarded (Pandemic)
2021 - Not awarded (Pandemic)
2019 - Rockabill VI - Paul O'Higgins
2018 - Mojito - Peter Dunlop & Vicky Cox
2017 - Mojito - Peter Dunlop & Vicky Cox
2016 - Sgrech - Stephen Tudor

2015 - Ruth - Liam Shanahan

2014 - Ruth - Liam Shanahan

2013 – Sgrech – Stephen Tudor

2012 – Sgrech – Stephen Tudor
2011 - Raging Bull – Matt Davis
2010 - Raging Bull – Matt Davis
2009 – Tsunami – Vincent Farrell
2008 – Galileo – Tennyson, Lemass & Kelliher
2007 - Gums 'n' Roses - John & Guy Rose
2006 - Gums 'n' Roses - John & Guy Rose
2005 - Galileo - NYC
2004 - Trinculo - HYC
2003 - Gums 'n' Roses - John & Guy Rose
2002 - Jackhammer - A Hall
2001 - Sigmagic - R Dobson
2000 - Sigmagic - R Dobson
1999 - Keep on Smiling - J T Little
1998 - Keep on Smiling - J T Little
1997 - Corwynt Cymru III - GF Evans
1996 - Jackhammer - A Hall
1995 - Jackhammer - A Hall
1994 - Megolopolis - U Taylor
1993 - Megolopolis - U Taylor
1992 - Grenade - HS & CS Morris
1991 - Megolopolis UC Taylor & N Biggs
1990 - Scenario Encore - A Fitton
1989 - Decibel - J Marrow, J Reynolds & P Watson
1988 - Checkmate - JM Biggs
1987 - Canterbury - AJ Vernon
1986 - Banga Wanga - CM Hill
1985 - Glider - L Keriiesz
1984 - Demelza - N Maguire
1983 - Rapparee II - B Kelly
1982 - Rapparee II - B Kelly
1981 - Rapparee II - B Kelly
1980 - Swuzzlebubble -WB Lyster
1979 - Sundancer - GR Haggas
1978 - Dai Mouse III - DWT Hague
1977 - Jublilee Race - 'Andromeda' AL Stead
The Wolf's Head Trophy
Presented to the Royal Dee Yacht Club by
D.A. Pearson- Commodore
to commemorate the Silver Jubilee of Her Majesty Queen Elizabeth II 1952 - 1977