Race 13 is race 2 of the Global Displays Welsh Coastal series and also part of the ISORA overall series. In the build up to this race, the forecast for light winds, seemingly decreasing as the day got nearer, caused the race committee great difficulties setting a course, with light winds and forecast direction widely fluctuating! The Irish fleet in Race 12, sailing the Dun Laoghaire to Greystones race faced the same issues. A further complication was the desire for all competitors to make it back in time for the Clwb Hwlio Pwllheli Sailing Club summer BBQ.
A smaller than normal fleet came to the line after a fair few withdrawals, possibly due to the forecast but also due to "fixture congestion" and with a reasonable 4-5 kts breeze from the SW filling in, the fleet started from the PSC line on a 15 mile course to PSC2 EURWYN PSC5 and finishing at the Plas Heli line.
A steady beat down to number 2 against the tide caused no issues before a reach to Eurwyn Buoy.
Jackknife got away from the fleet and seemed to avoid the big wind hole that formed a mile South East of number 2. The J109's were the first to escape its clutches followed by Talaris, leaving Aquaplane buried at the back, trying many sail changes to get moving, eventually goose winging a code zero and the main to get over to some breeze! Sadly never able to make up much of the lost time. The wind then filled in again to a steady 6-8 kts and the fleet had a straight forward reach to Euwyn and broad reach under spinnaker back to the finish via Number 5
Jackknife executed a flawless race taking line honours and overall just 19 seconds corrected ahead of the ISORA overall leader and on form Mojito, racing straight after Abersoch Keelboat Week, where they had great results in IRC1, and taking IRC 1 in this race, with Talaris taking IRC 2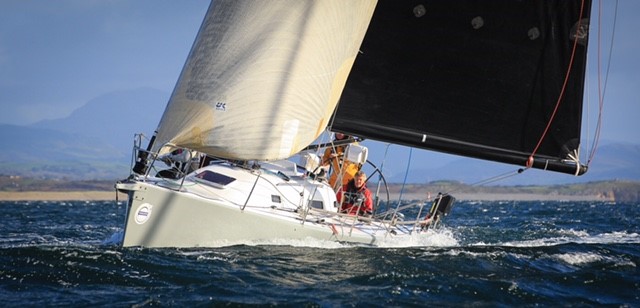 Jackknife .. photo by Andy Green
After racing a pleasant afternoon was had by all on the Plas Heli balcony discussing the race, with ISORA secretary and current Wolfs head champion Stephen Tudor giving a great account of the race from his perspective! with witty contributions from his co-owners!
A fantastic BBQ was organised by Plas Heli and another great evening enjoyed by all. The next race is the P2P nig
t race on Sept 1st and then the big one .... the season defining "James Eadie" race from Pwllheli to Dun Laoghaire, which will then confirm this years overall "Wolfs head" champion and winners of the three classes
It's looking like the Wolfs head will stay in Wales for another year though.
Results and information at www.isora.org and tracking at www.YB.com
Report by Mark Thompson Aquaplane and in Y&Y here