Three ISORA sailors received awards in the Volvo ISA Sailor of the Year Ceremony in the RDS Dublin on Friday evening 27th January
Howth YC sailors Conor Fogerty for his global exploits on BAM and Dave Cullen on J/109 Euro Car Parks for the Class Win in the 2016 Round Ireland Race. The third was the 2016 ISORA Champion - Stephen Tudor
Read Winkie Nixon's article on the Award Ceremony in Afloat here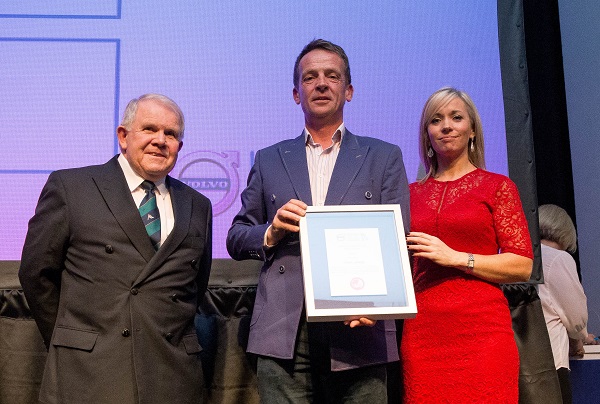 Conor Fogerty
was AFLOAT Sailor of the Month in February in recognition of his IRC 3 overall win in the
RORC
Caribbean 600 at Antigua -
more here
Conor's Award read: The very thought of the annual RORC Caribbean 600 relieves the February gloom, and 2016's was vintage, with Conor Fogerty of Howth YC doing it as part of his Atlantic circuit voyage with his new Jeanneau Sunfast 3600 Bam! His superb overall win in Class 3 was a tonic for the folks at home.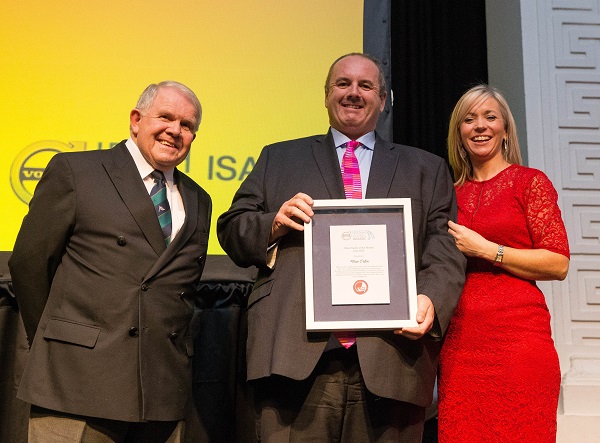 Dave Cullen was AFLOAT Sailor of the Month in June and his Award read:
With so many visiting super-boats, it was quite something to get into the frame in any division, and only one Irish boat actually won her class.
This was the J/109 Euro Car Parks skippered by Dave Cullen of Howth, coming from behind to be outright winner of Class 3 after a very closely-fought race. You can read more about Dave's Roud Ireland Race here .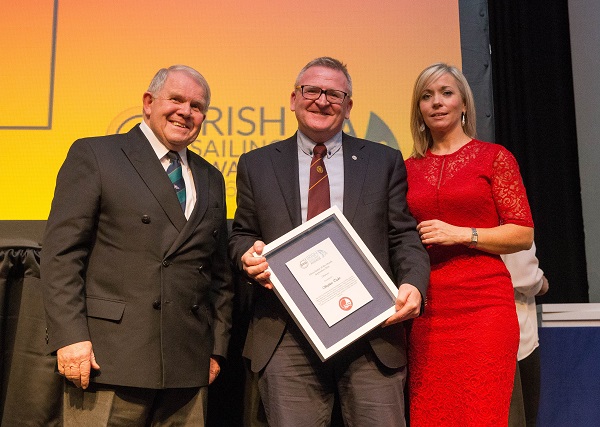 Stephen Tudor
was AFLOAT Sailor of the Month in September following the last race of the 2016 ISORA series when he and the Sgrech team won the 2016 series. -
more here
Stephen's award read : The Irish Sea Offshore Racing Association is in a healthy growth phase these days, and a key player is Stephen Tudor of Pwllheli in North Wales, where has also done much to re-vitalise his home port. Thus his overall win of the 2016 ISORA Championship in the final race of the season was hugely popular on both sides of the channel.
Stephen said 'It was a great honour to receive the ISA Sailor of the Month award in September 2016 following the ISORA overall win. To be nominated for the ISA Sailor of the Year Award was truly amazing. I was flattered by the support shown in the voting in AFLOAT and to receive an award in the #Volvo ISA Sailor of The Year Award Ceremony amongst so many distinguished sailors was a humbling experience.
It is not possible to win the Irish Sea Offshore Racing Association offshore series without a great crew and a well prepared boat. Sgrech is blessed with a fantastic crew; a combination of Irish, Welsh and Australian sailors which makes for interesting debates on the weather rail.
I am delighted to be associated with ISORA, a racing association which has embraced technology and is at the cutting edge of offshore race management. I can't mention ISORA without thanking the hard work and dedication of the Chairman, Peter Ryan. The offshore fleet is growing and we all hope that 2017 will surpass the successes of 2016.
I am extremely grateful to ISA and AFLOAT for the nomination and award and I hope that this will strengthen the maritime ties between Wales and Ireland.'