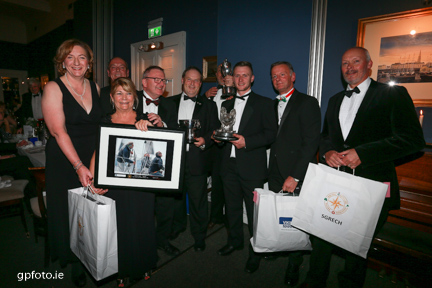 Stephen Tudor and the Sgrech team receiving the overall championship trophy - the RDYC Wolf's Head Trophy'ISORA is at the cutting edge of race management' said ISORA Chairman Peter Ryan in the 2016 ISORA AGM which was held in the National Yacht Club, Dún Laoghaire on Saturday 12th November.
At the AGM it was agreed that the ISORA 2017 race schedule would star the Classic 'D2D ~ Volvo Dun Laoghaire to Dingle' Race in June.
Another big feature of the 2017 race series is the 'RORC/Liverpool and Royal Dee Yacht Clubs' Lyver Trophy' race will form part of the Royal Dee Yacht Club's Offshore Championship with the coastal races in the Volvo Dun Laoghaire Regatta in July whilst the race from Dun Laoghaire to Pwllheli would be a great feeder race for the IRC Welsh National Championships hosted in Pwllheli in August.
The AGM also confirmed the use of auto helms in ISORA races and that the race schedule is designed to encourage new participants into the Irish Sea offshore scene from both sides of the channel with two coastal series and a good mix of race ports. Peter also confirmed that 'Virtual marks, combined with the latest Avery Crest YB Trakers would provide exciting and imaginative courses which could also feature virtual start lines and finishes'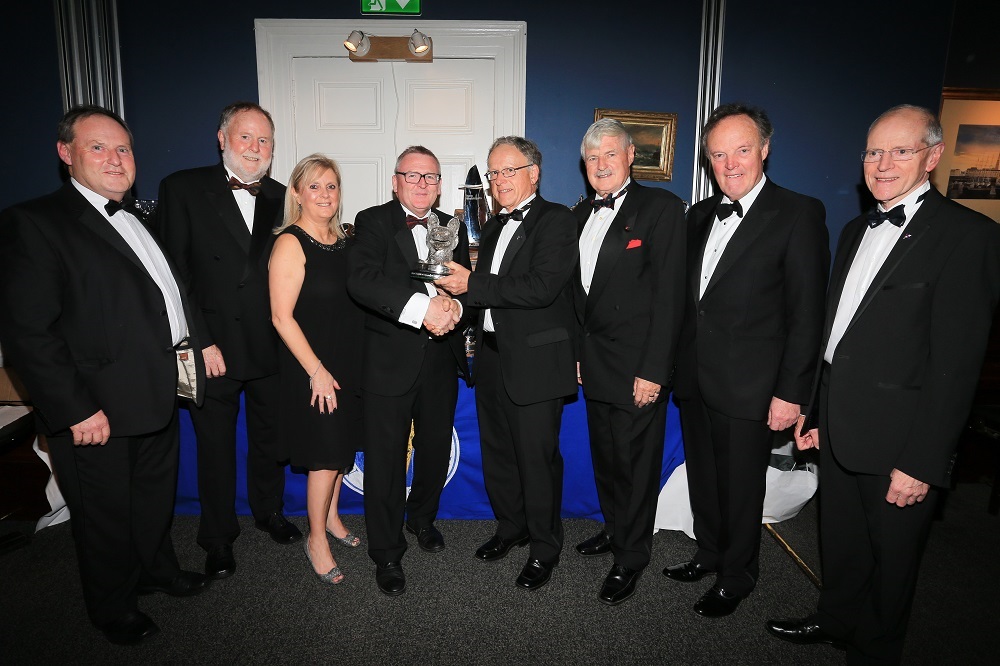 At the spectacular prize-giving, hosted in the NYC, Stephen Tudor's Sgrech team were confirmed the Offshore Champions for the third time and collected the prestigious RDYC Wolf's Head Trophy from Derek Matthews Commodore of RDYC. Derek was presented with the 'Penmaen Plate Spirit of ISORA' in recognition of his assistance to ISORA.
Also in the photograph (L - R) Peter Ryan Chairman of ISORA, Geraint Williams Vice Chairman of ISORA, Carys Tudor, Stephen Tudor Overall ISORA Champion, Derek Matthews Commodore Royal Dee Yacht Club, Barry MacNeaney Commodore Royal Alfred Yacht Club, Michael Boyd Commodore RORC and Larry Power Commodore of the National Yacht Club.
Photographs were produced on the evening by Gerry of gpfoto.ie and a link to a short video of the eveing is available here and the Gallery here
The full AGM report, minutes, race schedule and prizegiving dinner report will be published here shortly.
Read More - for the Chairman's Report to the AGM below
Overall Champion for the RDYC Wolf's Head – must compete in 5 qualifying races and then best five scores